Dos Monos is an experimental hip-hop group from Tokyo, with a roster including Zo Zhit, Taitanman, and Botsu, all of whom provide vocals and rap. Zo and Botsu also work on the production, which features a heavy amount of sampling. Their debut record Dos City, released via Deathbomb Arc (2019) saw them gain traction in Japanese and American markets and pushed them to receiving several favorable reviews. Stand out cuts like "Clean Ya Nerves (Cleopatra)," "Agharta," and "Schizoidian" exemplify Dos Monos' noisey, explosive take on boom-bap production and showcase the group's ability to craft dizzying flows to match.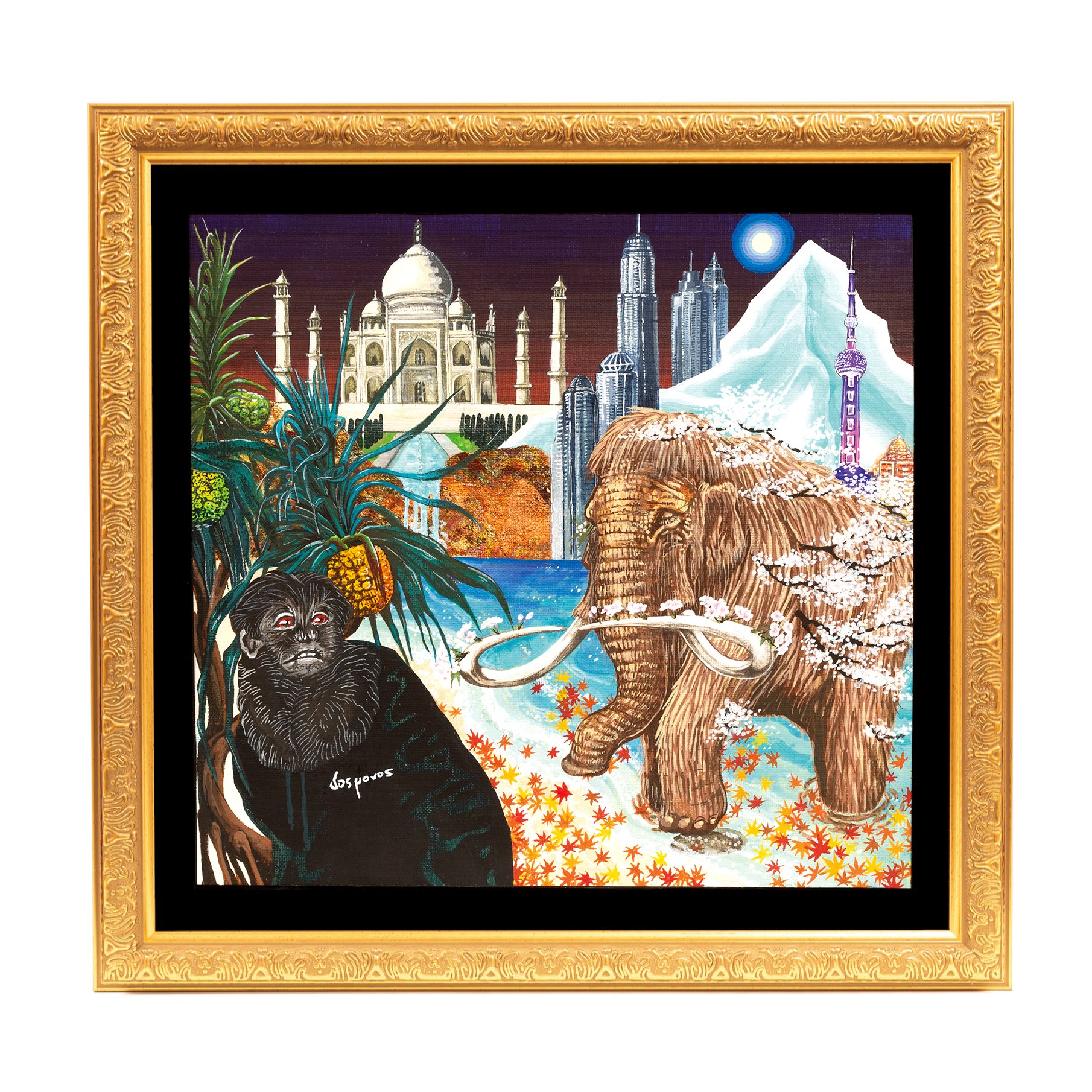 After releasing a couple singles and a collaboration with Central Florida-based rap duo They Hate Change in 2020, Dos Monos are back with a new project. At four tracks and nearly 16 minutes long, Dos Siki is a gift for returning listeners and an excellent introduction to new fans. Stylistically, it doesn't stray too far from the sounds and aesthetic of Dos City, but rather, the trio explores new grounds for inventive flows and ear-grabbing samples.
Dos Siki is the successor album to Dos City delivered in the size of an EP. "Siki" literally translates from Japanese to English to mean "the four seasons" (thanks, google translate). In a tweet, Dos Monos wrote "Dos City was about 'space'… Dos Siki is about "time" as 四季 (siki) means "four seasons." In order, each song is meant to evoke the emotions and feel of spring, summer, fall, and winter.
Dos Siki's opener, "The Rite of the Spring Monkey," introduces listeners to the range of sounds that Dos Monos pull from to create each of their multi-layered tracks. As the song for the spring, this track introduces to the lush forestry of a Monos instrumental and has a great bass line that propels it through one verse into the next. As they pass the mic from Zo to Taitanman, to Botsu, the group's vocal chemistry is immediately recognizable. Each bar picks up in rapid succession from the last, and no one rapper dominates the track — rather they build off the momentum of the last.
The second track "Aquarius" features a buttery smooth hook from Injury Reserve's Ritchie With a T over a breezy instrumental. His breathy, sing-song delivery mixes with sparse drumming to give the track a light and summery feel before Zo closes it out with an aggressive final verse.
The horns on "Estrus" are a staple of Dos Monos' loud and noisy production. The boisterous finish to this song brings the listener face to face with an explosion of shouting group vocals and blaring horns. Dos Siki is a showcase of the group's ability to fit noisier samples and ideas into their instrumentals, without detracting from the beats or vocal performances. "Estrus" is a frenzied and chaotic listen as the monos drop feverish verses to match the instrumental.
"Mammoth vs. Dos Monos" is the closing track and the longest cut from the album. It oscillates between a Latin dance number and some heavy electronic production that backs the three rap verses. The album's cover art features the lumbering mammoth that coincides with the wintery lyrical landscape. Zo's opening verse tackles "surging the ice age of emotions" and "hibernation behind closed doors of the mirror-covered city." Horns go from triumphantly shouting to screaming in the background, as he moves from one bar to the next. A brief moment of respite comes in between the first and final verses, and then the album dives into its final moments with whirring synths and a plucked instrumental that underscores each line from Taitanman and Botsu, with Taitanman delivering a poignant finish to his verse: "A sharpened pen is thicker than lance and cuts bone and flesh."
Dos Monos put up a billboard of the Ableton Live session for the track "The Rite of the Spring Monkey" in Japan and encouraged fans to create their own remixes. (image via @deathbombarc on Twitter)
Dos Siki marks a major return for Dos Monos. It's a satisfying continuation of the ideas and sounds that made their debut so compelling. This album avoids falling into ruts that made some moments on Dos City feel too chaotic and dissonant between vocal performances and the beats. For new listeners and fans of hip-hop, this could prove to be an attention grabbing and unique listen.